Plunge into the Arts with Penny Fraser and The Weston Art Guild
October 26 @ 8:00 am

-

5:00 pm

$5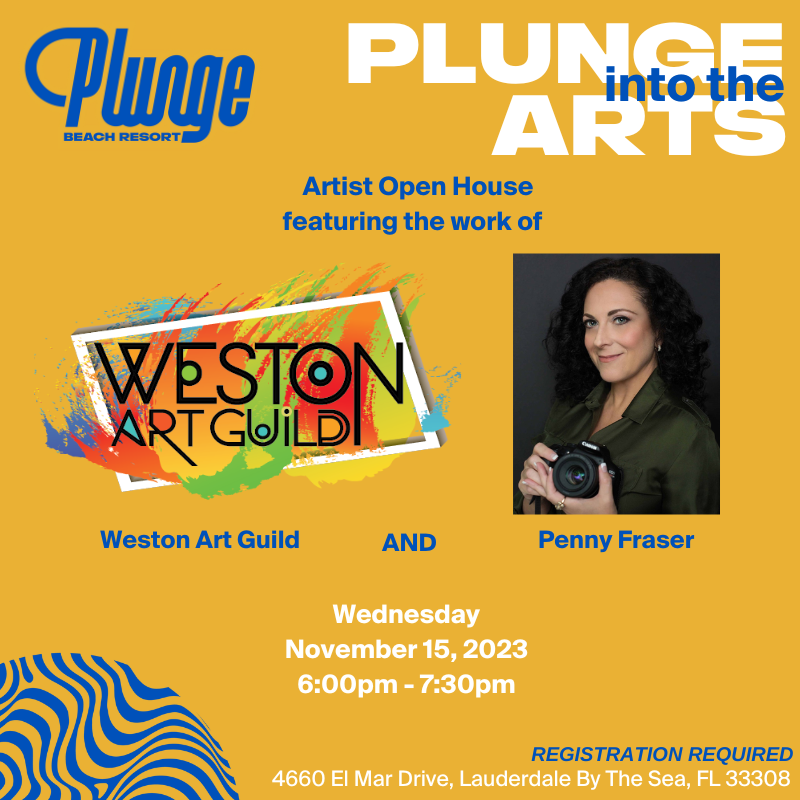 Please join us for our Plunge Into The Arts Artist Open House featuring the work of Penny Fraser and The Weston Art Guild, Wednesday, November 15th at 6:00pm at Plunge Beach Resort.
Registration and your first glass of wine are complimentary!
Parking is $5 cash per vehicle, please pay at the Front Desk upon arrival.
About Penny Fraser: Penny Fraser's mission is to uplift and empower people through the wonder and joy of her art. While Fraser spent many years in the legal field, her artistic journey started early in life. She has exhibited her art and photography in the past and is a current art resident at ArtServe in Fort Lauderdale, Florida.
Fraser's goal with the Sirens of the Sea Series is to make art innovate and interactive. She used all the tools available to her: artificial intelligence, animation, and augmented reality programs, Photoshop, along with traditional art instruments like pencils, pens, brushes, gold and silver foil, paper cutting devices, etc. These art pieces are printed on archival cotton rag paper and embellished by hand. At this time the pieces are 8×8 framed to 12×12. Fraser has 5 unique pieces completed and plans to create another 10-15 pieces in various sizes with different sirens (male and female, various ethnicities, different colors incorporated in the series, and different ages). Each Siren will have its own special animation. Fraser will also create a slide show that will incorporate the animated Sirens to make a robust exhibition!
Penny is a Lauderdale by the Sea resident and runs her portrait studio. "Penny Fraser Photography" at 275 Commercial Blvd., Suite 300, Lauderdale by the Sea, FL 33308.She is well known in the area for her special photography experience for women in their 40s, 50s, 60s, and 70s and beyond by featuring them in a magazine and exhibition series: "40 over 40 Bombshell Series". Fraser says, "The Bombshell series and the beauty of Lauderdale by the Sea, inspired me to create the "Sirens of the Sea" Series. It is a mix of the inner beauty of the Sirens I create mixed with the spirit of the Lauderdale by the Sea community. This is my way of giving back and sharing the joy and wonder of this special beachside town."
For more information on Penny Fraser Photography, visit www.pennyfraserphotography.com.
About Weston Art Guild: The Weston Art Guild was formed in December 2005 as a nonprofit "all volunteer" visual arts organization with the purpose of creating a cultural atmosphere in the community by educating the public on the importance of all forms of visual art. The Guild accepts all visual artists – painters, sculptors, jewelry makers, photographers, etc. – and provides its members with the opportunity to meet other artists in Southwest Broward to exchange information on art topics and events in the county and surrounding counties. The Guild encourages residents of southwest Broward interested in purchasing a piece of art to think of their local artists first. The Guild organizes various art exhibits in the Broward area throughout the year and many members are accomplished artists that also exhibit their artwork at various venues throughout the county and beyond bringing all their diverse skills and cultural backgrounds to their work and to local communities.