Fort Lauderdale, Florida – The wait for Fort Lauderdale's Sistrunk Marketplace is finally over: The food hall-meets-brewery meets-lounge-meets-DJ academy opened its doors to the public on August 21, 2020. The 20,000 square foot space's soft launch has it open from Thursdays to Sundays under the tentative hours of 9 AM to 9:30 PM. Given the hype, Sistrunk is following strict COVID-19 and CDC protocols, so reservations must be made in advance; otherwise, guests risk not being able to get inside.
Sistrunk is asking all patrons to download or log into Tock to make their required reservations. The venue is operating at 40% capacity and has marked its floors with easy to follow movement patterns and socially distanced standing zones. Ordering and payment are contactless, and runners bring out food and utensils. Each table features a housemade hand sanitizer bottle, and face masks are required when walking anywhere to or from a reserved table. A large parking lot is adjacent to the building and valet will be available on the weekends (pricing is to be determined).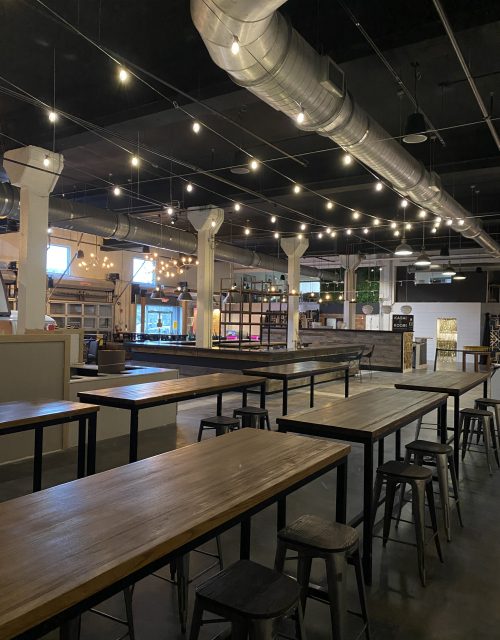 Opening food kiosks will also be limited. According to Maxence Doytier, Sistrunk Marketplace's Event Guru, "The Brewery will be open within the next 60 days. SistrunKollective Shopping will be open in the next 30 days. Kasai and Koori will be open in the next 30 days…stay tuned for something more every time you visit. This experience has been quite the adventure, and we are just getting started. We are grateful for those patrons that have been so patient."
In the meantime, food lovers can get full on Nellie's southern-inspired fare, Osom Crepes, Bronte's coffee and teas, Hot Lime's tacos and ceviches, Chop Shoppe's charcuterie caliber meats, Heavenly Raw's healthy bites, OG Poke's fish-forward bowls and platters, Needa Pita's Mediterranean musings, and Senbazuru's ramen and tapas. (And let's not forget, craft cocktails pour from the Center Bar.) Swing by for breakfast, lunch, or dinner.
Broward residents who gushed over OG Poke's Insta-famous Miami sushi boxes are also in luck—these crave-worthy boxes will be available from Sistrunk Marketplace in the coming months.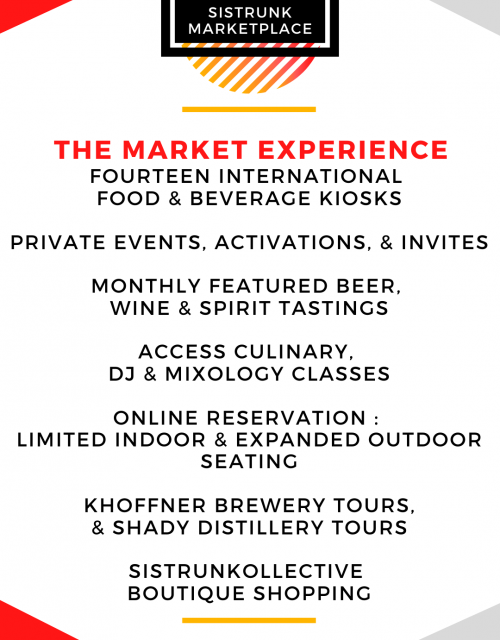 Despite the Sistrunk's opening delays and the ongoing global health crisis, Doytier says the venue is committed to keeping its intentions intact. "Our vision hasn't changed. Sistrunk Marketplace is here to provide Fort Lauderdale a worldwide cuisine experience paired with good drinks and good times with friends and family. As the city grows, we will grow with it. It's been two years in the making; we are happy to be finally opening our doors to the public."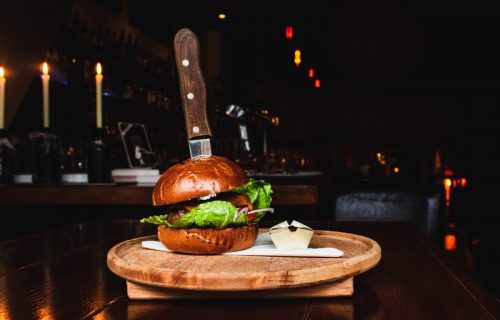 While Wired Sound Academy has been open for some time, Sistrunk's minting will give Academy alumni a platform to play to visiting Sistrunk crowds. Doytier also promises "prix fixe movie nights, couples mixology courses, local bands, touring artists, and chef pop-ups." He adds, "As the months cool down, we plan on having weekend farmer's markets, as well as evening street art festivals with mural activations by local artists in the outdoor beer garden. These are the times to stay creative."
Sistrunk Marketplace does indeed bring "something different" (following its ongoing marketing slogan) to Fort Lauderdale and is set to follow the successful food hall formula preset by major cities before it, but the venue sits in an obvious and increasingly gentrified neighborhood. When asked how Sistrunk Marketplace planned to ease concerns surrounding gentrification and residential representation within and throughout the space, Doytier said "We are here for the whole city—those with a taste for adventure, curiosity, and exploration of flavors."
For special event requests, contact Maxence Doytier at [email protected].
All photos courtesy of Sistrunk Marketplace.
Article written by: Liana Lozada is a writer, storyteller, and social media director with journalism roots. She's a South Florida native who has been covering the local market for over ten years. When she's not typing away or exploring around town (i.e., eating), you'll likely catch her at the gym, perusing a flea market, playing with her dog, or staring at her fridge.