Justice for XXXTentacion, as three men have been convicted of murder, in the case of the young rapper
Reported earlier this year, three men were standing trial in the murder case of XXXTentacion. Michael Boatwright, Dedrick Williams, and Trayvon Newsome, have all been convicted of the murder of the young rapper.
All 3 men were found guilty of first degree murder, and robbery. They will receive life sentences for their parts in the crime, bringing an end to this 5 year long saga. Hopefully XXXTentacion's family will be able to begin the healing process following the loss.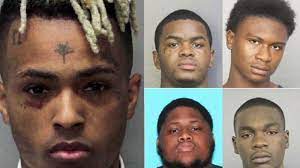 The testimony of a fourth man who was "involved" proved key in the verdict. Robert Allen, working with the prosecutors, pleaded guilty last year to second degree murder. He has not yet been sentenced pending the conclusion of the trial. For his part in the events, he could receive a punishment of time served- life in prison, depending on how favorably the courts viewed his help in the trial.
Defense attorney's for the other men accused Allen of being a liar, motivated by a life in prison. They also said that the detectives in the case did a poor job with discovery, and failed to look at other possible suspects, including the Canadian born rap star Drake, who was feuding with XXXTentacion at the time of his murder.
XXXTentacion, whose real name was Jahseh Onfroy, had just left Riva Motorsports with a friend when his BMW was blocked by an SUV that swerved in front. Video showed two masked gunmen run up to his vehicle, with one of them shooting him. They then grabbed a Louis Vuitton bag out of the car that was filled with cash.
Allen stated in court that the men set out that day to rob different people to make money. They were at the motorcycle shop to buy masks, when they spotted the rapper, knowing he probably had cash, and decided to make him a target. After the men confirmed it was XXXTentacion, the men ambushed him on his way out of the motorcycle shop. Just another senseless murder, where now 4 men will now lose their lives. 1 to death, 3 to live in prison with no chance of parole. What a waste.